SAREX Packet contacts
---
What is Packet radio communications? Packet radio is just a form of digital data transmission. You can 'link' two computers to communicate together. A Terminal Node Controller or TNC uses its microproccesor, modem and software to implement AX.25 protocol. You can use a dumb terminal to command communication functions. The TNC output and input analog audio is connected to a transceiver. A PTT control is also connected between the transceiver and TNC. Packet radio communications began as SAREX or Shuttle Amateur Radio EXperiment. During some parts of the mission the radio transceiver and TNC would be turned on. The MIR Soviet space station also a Packet radio TNC BBS system. Sometimes it was refered to as MIREX. If you made a contact with the PMS (personal messaging system) the TNC puts out on the heard list your Call Sign and QSL number. Space shuttle is called Space Transport System (STS). Shuttle missions are numbered like STS 9.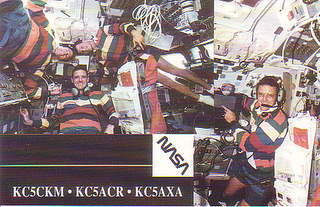 STS 58 October 93 Columbia 14 day mission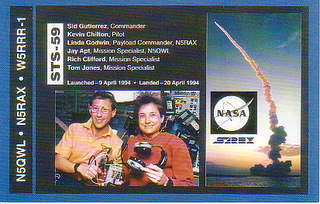 STS 59 April 94 Endeavour 11 days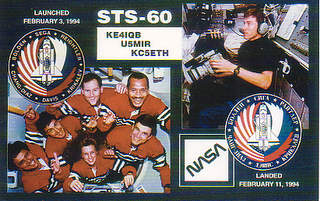 STS 60 February 94 Discovery 7 days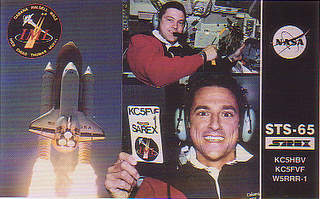 STS 65 July 94 Columbia 14 days
STS 67 March 95 Endeavour 16 days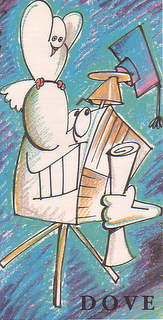 This a QSL card from DO-17 launched 90-01-22. Also known as DOVE Digital Orbiting Voice Recorder. Sponcered by AMSAT Brazil. Stopped working around 1998.
Was able to catch the ISS SSTV downlink on12-26-2021 145.800FM PD120
---
Questions or comments? Drop me a line. KA6PUW@ARRL.NET