Hello and welcome to my home page.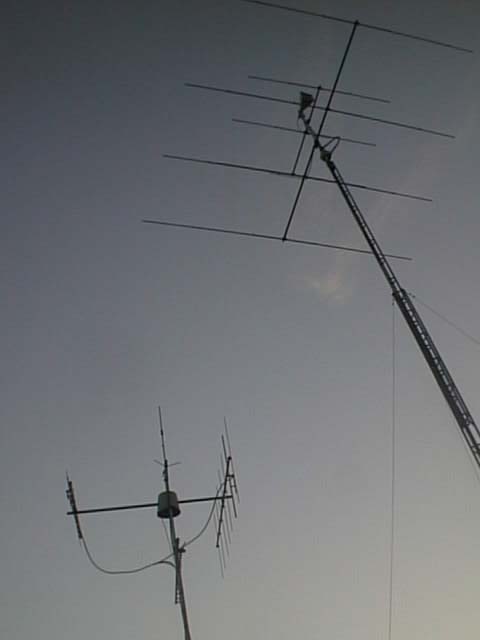 Amateur Radio General Class Operator:
Callsign: KA6PUW Mark Sato
QTH: Costa Mesa, California, USA DM13BQ 168' elevation
QSL: 100% via the Bureau or CBA
Activities: 10 meter DXCC 262 confirmed / 274 mixed, satellites and contests
Photo: 32-foot radio tower that resides in my backyard.
My Set-Up:
HF Transceiver: Kenwood
VHF Transceiver: Kenwood
Computer: Mac G4 or PeeCee
Antenna: The HF antenna is a four element monoband yagi,and a multi-band trap vertical. The VHF antenna is a two meter yagi and the UHF is a 10 element 440 yagi.
Current Activities:
2009--So far no luck on K5D on 10 meters. Lots of false alarms on the web cluster. I'd like to thank AMSTAT India for publishing my design and article, "Azimuth/Elevation Rotator for Arrow Satellite Antennas" in their March 2009 newsletter.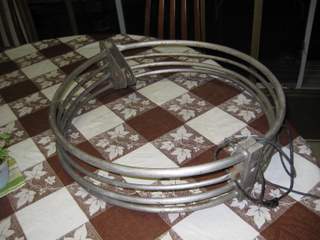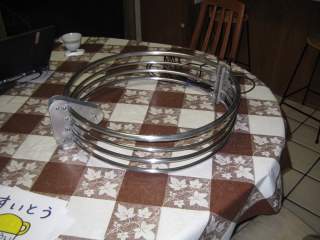 I got a 6 meter loop antenna on a no bid auction. Was a lot of fun restoring this retro antenna. I buffed the aluminum tubes, added stainless screws and tested the SWR at 50.100. It's almost a perfect match for a Hi-Par Saturn 6 Halo loop antenna except it has 4 loops vs 3. AA9DY was very kind to send me a nice jpeg of his 3 loop Hi-Par Saturn 6 mobile antenna with dimensions. If you have any info on this antenna please drop me a line. Thank you Wes, AC5K for the "ID". Its EBCO "Skysweeper" Apparently it was sold for $19.95, EBCO Manufacturing PO Box 895, Los Amigos Station, Downey, California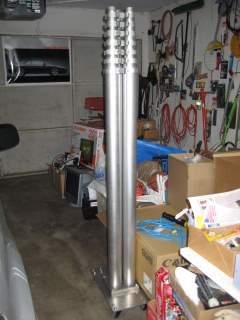 My latest project! Well thanks to KE6IDA for finding this telescoping pneumatic mast. It has 3 poles (can push up a heavy load-probably a TV microwave dish - no we didn't steal it from a TV news van) It has seven telescoping sections and is around 30ft/9m tall fully expanded. My plans are to run a AR 40 rotor, (its light) and a 3 square foot wind load factor antennas. My real hopes were to add a 2 inch square tube on the base so I can put it on a trailer hitch but the pneumatic masts are only supported on to the base with tiny bolts. I would be afraid the vibration from being on a trailer hitch would break the screws off and the leaving a mess on the freeway. Also I need to do some more experiments with a air source. Since there are 3 tubes they take an enormous volume of air to pump them up. Looks like I need a 125 psi 5 gallon air tank. I tried a small emergency 12vdc compressor but it took forever. I wonder how hard it would be to adapt one of those paintball gun air bottles.
2008--Well I actually have some activity this year as Cycle 24 should be starting. This summer I worked some E Skip on 10 and 6 meters. One day it was so good on 10m that JA7OWD made a few contacts with hams in the W7 area. Also I was in JA again on business and was able to meet up with my 10 meters friends. We met at a restaurant in Yokohama. Missing in the picture is JR1MLT/KK4AR and JA1DFZ/W6NEC, thanks for joining us.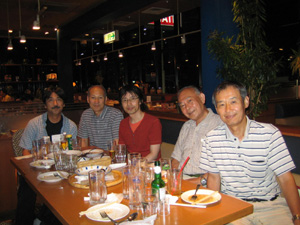 KA6PUW, JH1BXH, JG2TKH, JM1EJH, JA1QGT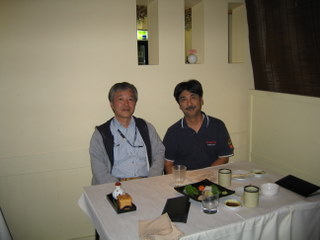 JR1EYI was here in Los Angeles on a business trip, so it was nice to get together for dinner.
2007--No Activity. Cycle 23 is coming to an end. Kudo's to WH6BIE Kyle for making a contact JA on FO-20. FO-20's foot print barely allows for a 4 minute window that covers part of JA.
2006--My only activity was Field Day with KD6CML Mike. This was his portable setup.
2005-- I was in Japan on business and was able to meet some of my Ham friends. Endo san JA1CQK/ex JS6BLS.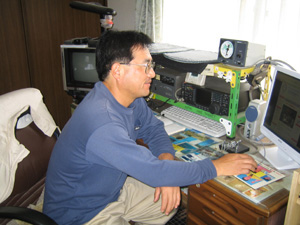 I was able to receive my 2004 JIDX plaque in person from 59 Magazine 10 meter editor JG2TKH Toru san. Thanks to JA1ELY Editor 59 magazine and JA7SN for donating the plaque.
I was also able to have lunch with some old friends Mitaka Tokyo at JH1BXH's QTH.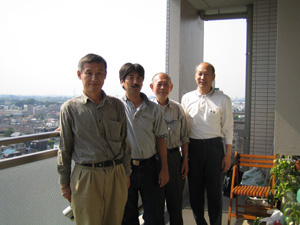 JA1QGT, KA6PUW, JM1EJH, and JH1BXH
2004-- Well not much to report this year so far. 10 meter dx conditions are poor to none. Sorry to see the YV0 DX pedition go QRT early. A040 is dead. I would like to thank all the JA's for the 2003 JIDX contacts on 10 meters. I received First Place North America 28 mhz Top. For 2004 JIDX I was quite surprized to make 10 contacts on 28mhz. Thanks again everyone.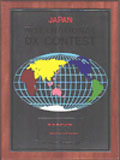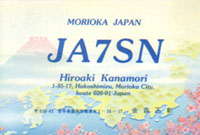 Plaque donated by Hiroaki Kanamori JA7SN Morioka Contest & DX Association Thanks !
2003-- I have been QRT since January because of heavy work schedule. I did tilt my tower over to replace the coax and do some maintainance. I also took my satellite antennas down to redo them also. I got First Place for the 2002 JIDX 28 mhz Low Power #1 North America. Thanks everyone for your support.Picture on the right is the SCJHC ARRL Field Day. Operator on the left Kyle Pearsall KG6FEM.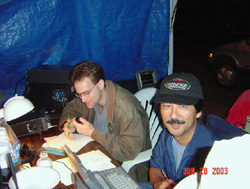 2002-- Well I worked PW0T, TI9M, K1B, C98DC, EW8AF, and heard the YI pileup on 9/28/02. I got #1 NA 28mhz Low Power & World Top 28mhz Low Power for the 2001 Japan International DX contest last November. Thanks for all the contacts this year for the 2002 JIDX contest. I made my first AO-40 QSO with WA4YRJ in Knotsville TN.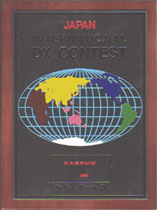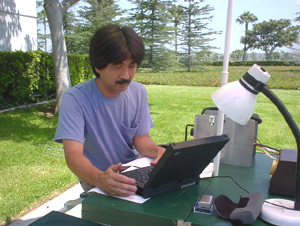 Plaque donated by JH3GRE Junichi Nakamura thanks!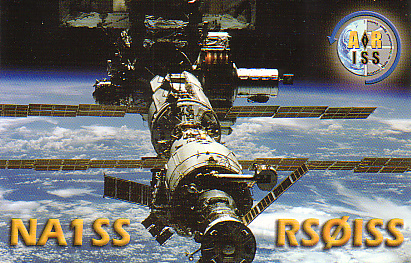 Was very very lucky to make a voice contact with ISS
2001-- Started up with satellites again. I'm active on FO-29. I'm only using a 7 element vertically polarized beam and a 10 element 440 beam also vertically polarized. I put up a 2'x3' BBQ type 2.4 ghz dish to hear the A0-40 downlink. I'm using a modified Drake 2880 downconverter. My thanks to K6VLM for the use of his HP signal generator and KE6IDA for his expertise in the Drake modification procedure. Next project is to move up to a 3 foot BBQ type dish and a helix feed. Hope to hear you on the birds soon. Great 6M opening on November 18. Worked 28 JA's! Thanks everyone for all the contacts for the Japan International DX contest. About the same score as last year..Picture on the right is the ARRL 10ghz microwave contest. 10ghz ssb homebrew unit made by KE6IDA.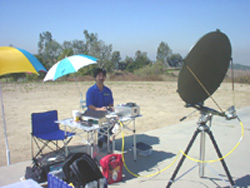 Worked some new DX on 10m: 3Y0C, VK9ML, AP2IA, ZK1TUG.
Past Activities: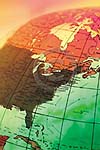 Articles:
Satellites (still under construction)
Azimuth/Elevation rotator NEW!
My Ham Radio Links:
American Radio Relay League (ARRL)
DX WEB CLUSTER 10 Meter Band
Radio Amateur Satellite Corporation(AMSAT-NA)
---
Drop me a line. Questions, comments or suggestions welcomed!
Thanks for stopping by. Last update: 06-03-09.
Visitors since September 20, 2000